WHAT YOU NEED TO CHECK HOW MUCH YOU NEED TO DO AN INDUSTRIAL DEMOLITION:
1- make a reliable estimate of the tons of material to be disposed of;
2- make a list of the different types of materials that will emerge from the demolition;
3- make an estimate of the hours of work and the necessary means;
4- estimate disposal costs based on the type and quantity of material;
5- make an estimate of the earnings that can come from the sale of some types of waste, mainly metal and ferrous scrap.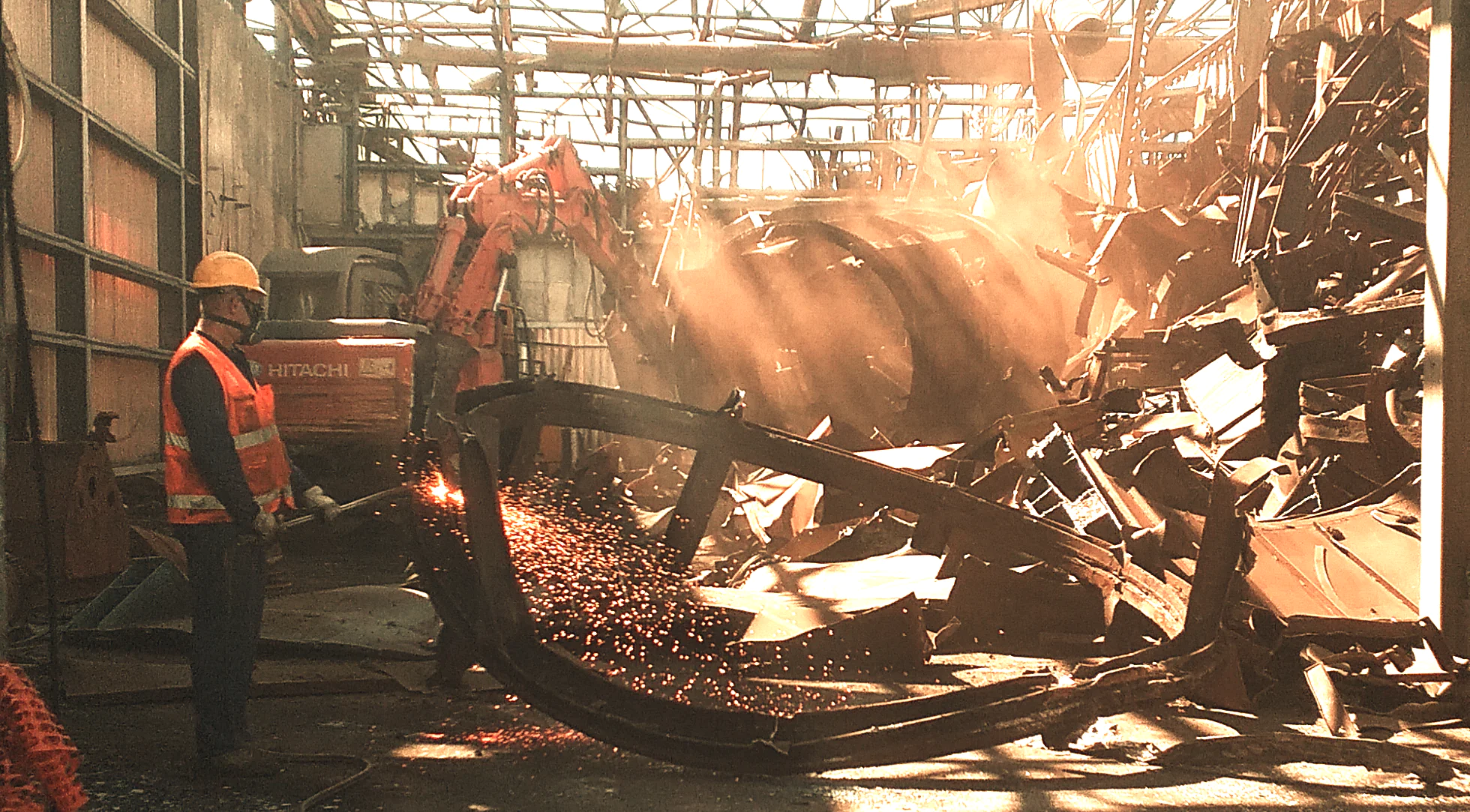 1- Not all companies are suitable for all types of demolition.
The equipment, the number of men and vehicles available together with the proximity to the site are determining factors in selecting a company that can carry out an industrial demolition of one plant rather than another.
The available authorizations of the various EWC codes are also essential for making this assessment.
2-Do you have to demolish only iron and metal scrap or also sludge, aggregates and hazardous waste?
The preventive control of the materials that are to be disposed of is a fundamental step of industrial demolition.
In fact, it is necessary to prevent the company hired to do the work from being forced to stop at a certain point because it does not have the authorization to dispose of certain types of waste that may result during the demolition process and which had not been budgeted for.
3- Do you have time constraints?
Another important factor is to calculate the number of hours that will be used to demolish the industrial plant, in order to make an estimate of the prices and respect the times in case there are legal or contractual constraints to be respected.
4- Remember, for some materials you will be paid, for others you will have to pay.
For metals deriving from industrial demolition you will be able to receive a compensation deriving from their sale, minus the demolition cost, while for others, especially hazardous waste, you will have to pay to dispose of them.
So always rely on experts who give you an accurate estimate of costs and revenues before starting a job and then find yourself having costs much higher than the revenues you thought.
5- To whom to sell the ferrous and non-ferrous metals deriving from industrial demolition?
It depends on the type of material, the processes it still requires and the distance between the demolished plant and the recovery and storage company.
Different companies can also intervene in the purchase of the material based on the different types for sale.
It is not necessary to sell everything at a lump sum to a single interlocutor.
INSPECTION AND QUALITATIVE AND QUANTITATIVE ESTIMATES
DEMOLITION AND VOLUMETRIC REDUCTION
METAL EXCHANGE CONTROL AND SALE
We make estimates to understand how much material there is, what types of materials are affected and how long the specific industrial demolition will take.
We send the best companies for each type of demolition, based on timing, available CER codes, available means and men.
We buy all the material directly, in order to have guaranteed payments and then we send each type of material to the most suitable storage sites to receive the different types of material.
WHETHER YOU HAVE AN INDUSTRIAL PLANT TO BE DEMOLISHED OR YOU ARE AN INDUSTRIAL DEMOLITION COMPANY, WE MAKE OUR COMMERCIAL NETWORK AVAILABLE BOTH TO DEMOLISH THE PLANT, OR TO COLLECT THE MATERIAL, PURCHASING IT DIRECTLY.
THE SERVICE IS AVAILABLE IN ALL THE PROVINCES OF ITALY
COMPANY FOR INDUSTRIAL DEMOLITION IN ABRUZZO
INDUSTRIAL DEMOLITION COMPANY IN CHIETI
INDUSTRIAL DEMOLITION COMPANY IN L'ACQUILA
INDUSTRIAL DEMOLITION COMPANY IN PESCARA
INDUSTRIAL DEMOLITION COMPANY IN TERAMO
COMPANY FOR INDUSTRIAL DEMOLITION IN BASILICATA
INDUSTRIAL DEMOLITION COMPANY IN MATERA
POWER INDUSTRIAL DEMOLITION COMPANY
COMPANY FOR INDUSTRIAL DEMOLITION IN
CALABRIA
INDUSTRIAL DEMOLITION COMPANY IN CATANZARO
INDUSTRIAL DEMOLITION COMPANY IN COSENZA
INDUSTRIAL DEMOLITION COMPANY IN CROTONE
INDUSTRIAL DEMOLITION COMPANY IN REGGIO CALABRIA
INDUSTRIAL DEMOLITION COMPANY IN VIBO VALENTIA

COMPANY FOR INDUSTRIAL DEMOLITION IN
CAMPANIA
INDUSTRIAL DEMOLITION COMPANY IN AVELLINO
INDUSTRIAL DEMOLITION COMPANY IN BENEVENTO
INDUSTRIAL DEMOLITION COMPANY IN CASERTA
INDUSTRIAL DEMOLITION COMPANY IN NAPLES
INDUSTRIAL DEMOLITION COMPANY IN SALERNO

COMPANY FOR INDUSTRIAL DEMOLITION IN
EMILIA ROMAGNA
WE TAKE CARE OF THE COLLECTION OF COPPER SCRAP AND COPPER CABLES IN BOLOGNA
WE TAKE CARE OF THE COLLECTION OF COPPER SCRAP AND COPPER CABLES IN FERRARA
WE TAKE CARE OF THE COLLECTION OF COPPER SCRAP AND COPPER CABLES IN FORLÌ AND CESENA
WE TAKE CARE OF INDUSTRIAL DEMOLITIONS IN MODENA
WE TAKE CARE OF INDUSTRIAL DEMOLITIONS IN PARMA
WE TAKE CARE OF INDUSTRIAL DEMOLITIONS IN PIACENZA
WE TAKE CARE OF INDUSTRIAL DEMOLITIONS IN RAVENNA
WE TAKE CARE OF INDUSTRIAL DEMOLITIONS IN REGGIO EMILIA
WE TAKE CARE OF INDUSTRIAL DEMOLITIONS IN RIMINI

COMPANY FOR INDUSTRIAL DEMOLITION
IN FRIULI VENEZIA GIULIA
WE TAKE CARE OF INDUSTRIAL DEMOLITIONS IN GORIZIA
WE TAKE CARE OF INDUSTRIAL DEMOLITIONS IN PORDENONE
WE TAKE CARE OF INDUSTRIAL DEMOLITIONS IN TRIESTE
WE TAKE CARE OF INDUSTRIAL DEMOLITIONS IN UDINE
COMPANY FOR INDUSTRIAL DEMOLITION
IN LAZIO
WE TAKE CARE OF INDUSTRIAL DEMOLITIONS IN FROSINONE
WE TAKE CARE OF INDUSTRIAL DEMOLITIONS IN LATINA
WE TAKE CARE OF INDUSTRIAL DEMOLITIONS IN RIETI
WE TAKE CARE OF INDUSTRIAL DEMOLITIONS IN ROME
WE TAKE CARE OF INDUSTRIAL DEMOLITIONS IN VITERBO

COMPANY FOR INDUSTRIAL DEMOLITION
IN LIGURIA
WE TAKE CARE OF INDUSTRIAL DEMOLITIONS IN GENOA
WE TAKE CARE OF INDUSTRIAL DEMOLITIONS IN IMPERIA
WE TAKE CARE OF INDUSTRIAL DEMOLITIONS IN LA SPEZIA
WE TAKE CARE OF INDUSTRIAL DEMOLITIONS IN SAVONA
COMPANY FOR INDUSTRIAL DEMOLITION
IN LOMBARDY
WE TAKE CARE OF INDUSTRIAL DEMOLITIONS IN MILAN
WE TAKE CARE OF INDUSTRIAL DEMOLITIONS IN MONZA AND BRIANZA
WE TAKE CARE OF INDUSTRIAL DEMOLITIONS IN PAVIA
WE TAKE CARE OF INDUSTRIAL DEMOLITIONS IN SONDRIO
WE TAKE CARE OF INDUSTRIAL DEMOLITIONS IN VARESE
WE TAKE CARE OF INDUSTRIAL DEMOLITIONS IN BERGAMO
WE TAKE CARE OF INDUSTRIAL DEMOLITIONS IN BRESCIA
WE TAKE CARE OF INDUSTRIAL DEMOLITIONS IN COMO
WE TAKE CARE OF INDUSTRIAL DEMOLITIONS IN CREMONA
WE TAKE CARE OF INDUSTRIAL DEMOLITIONS IN LECCO
WE TAKE CARE OF INDUSTRIAL DEMOLITIONS IN LODI
WE TAKE CARE OF INDUSTRIAL DEMOLITIONS IN MANTOVA
COMPANY FOR INDUSTRIAL DEMOLITION
IN MARCHE
WE TAKE CARE OF INDUSTRIAL DEMOLITIONS IN ANCONA
WE TAKE CARE OF INDUSTRIAL DEMOLITIONS IN ASCOLI PICENO
WE TAKE CARE OF INDUSTRIAL DEMOLITIONS IN FERMO
WE TAKE CARE OF INDUSTRIAL DEMOLITIONS IN MACERATA
WE TAKE CARE OF INDUSTRIAL DEMOLITIONS IN PESARO AND URBINO

COMPANY FOR INDUSTRIAL DEMOLITION
IN MOLISE
WE TAKE CARE OF INDUSTRIAL DEMOLITIONS IN CAMPOBASSO
WE TAKE CARE OF INDUSTRIAL DEMOLITIONS IN ISERNIA

COMPANY FOR INDUSTRIAL DEMOLITION
IN PIEDMONT
WE TAKE CARE OF INDUSTRIAL DEMOLITIONS IN ALEXANDRIA
WE TAKE CARE OF INDUSTRIAL DEMOLITIONS IN ASTI
WE TAKE CARE OF INDUSTRIAL DEMOLITIONS IN BIELLA
WE TAKE CARE OF INDUSTRIAL DEMOLITIONS IN CUNEO
WE TAKE CARE OF INDUSTRIAL DEMOLITIONS IN NOVARA
WE TAKE CARE OF INDUSTRIAL DEMOLITIONS IN TURIN
WE TAKE CARE OF INDUSTRIAL DEMOLITIONS IN VERBANO CUSIO AND OSSOLA
WE TAKE CARE OF INDUSTRIAL DEMOLITIONS IN VERCELLI

COMPANY FOR INDUSTRIAL DEMOLITION
IN PUGLIA
INDUSTRIAL DEMOLITION COMPANY IN BARI
INDUSTRIAL DEMOLITION COMPANY IN BARLETTA ANDRIA AND TRANI
INDUSTRIAL DEMOLITION COMPANY IN BRINDISI
INDUSTRIAL DEMOLITION COMPANY IN FOGGIA
INDUSTRIAL DEMOLITION COMPANY IN LECCE
INDUSTRIAL DEMOLITION COMPANY IN TARANTO

COMPANY FOR INDUSTRIAL DEMOLITION
IN SARDINIA
INDUSTRIAL DEMOLITION COMPANY IN CAGLIARI
INDUSTRIAL DEMOLITION COMPANY IN CARBONIA AND IGLESIAS
INDUSTRIAL DEMOLITION COMPANY IN MEDIO CAMPIDANO
INDUSTRIAL DEMOLITION COMPANY IN NUORO
INDUSTRIAL DEMOLITION COMPANY IN OGLIASTRA
INDUSTRIAL DEMOLITION COMPANY IN OLBIA
INDUSTRIAL DEMOLITION COMPANY IN ORISTANO
INDUSTRIAL DEMOLITION COMPANY IN SASSARI

COMPANY FOR INDUSTRIAL DEMOLITION
IN SICILY
INDUSTRIAL DEMOLITION COMPANY IN AGRIGENTO
INDUSTRIAL DEMOLITION COMPANY IN CALTANISSETTA
INDUSTRIAL DEMOLITION COMPANY IN CATANIA
INDUSTRIAL DEMOLITION COMPANY IN ENNA
INDUSTRIAL DEMOLITION COMPANY IN MESSINA
INDUSTRIAL DEMOLITION COMPANY IN PALERMO
INDUSTRIAL DEMOLITION COMPANY IN RAGUSA
INDUSTRIAL DEMOLITION COMPANY IN SIRACUSA
INDUSTRIAL DEMOLITION COMPANY IN TRAPANI

COMPANY FOR INDUSTRIAL DEMOLITION
IN TUSCANY
INDUSTRIAL DEMOLITION COMPANY IN AREZZO
INDUSTRIAL DEMOLITION COMPANY IN FLORENCE
INDUSTRIAL DEMOLITION COMPANY IN GROSSETO
INDUSTRIAL DEMOLITION COMPANY IN LIVORNO
INDUSTRIAL DEMOLITION COMPANY IN LUCCA
INDUSTRIAL DEMOLITION COMPANY IN MASSA CARRARA
INDUSTRIAL DEMOLITION COMPANY IN PISA
INDUSTRIAL DEMOLITION COMPANY IN PISTOIA
INDUSTRIAL DEMOLITION COMPANY IN PRATO
INDUSTRIAL DEMOLITION COMPANY IN SIENA

COMPANY FOR INDUSTRIAL DEMOLITION
IN TRENTINO SOUTH TYROL
WE TAKE CARE OF INDUSTRIAL DEMOLITIONS IN BOLZANO
WE TAKE CARE OF INDUSTRIAL DEMOLITIONS IN TRENTO

COMPANY FOR INDUSTRIAL DEMOLITION
IN UMBRIA
WE TAKE CARE OF INDUSTRIAL DEMOLITIONS IN PERUGIA
WE TAKE CARE OF INDUSTRIAL DEMOLITIONS IN TERNI

COMPANY FOR INDUSTRIAL DEMOLITION
IN VALLE D'AOSTA
WE TAKE CARE OF INDUSTRIAL DEMOLITIONS IN AOSTA

COMPANY FOR INDUSTRIAL DEMOLITION
IN VENETO
WE TAKE CARE OF INDUSTRIAL DEMOLITIONS IN BELLUNO
WE TAKE CARE OF INDUSTRIAL DEMOLITIONS IN PADUA
WE TAKE CARE OF INDUSTRIAL DEMOLITIONS IN ROVIGO
WE TAKE CARE OF INDUSTRIAL DEMOLITIONS IN TREVISO
WE TAKE CARE OF INDUSTRIAL DEMOLITIONS IN VENICE
WE TAKE CARE OF INDUSTRIAL DEMOLITIONS IN VICENZA